Welcome from the Headmaster of MCQ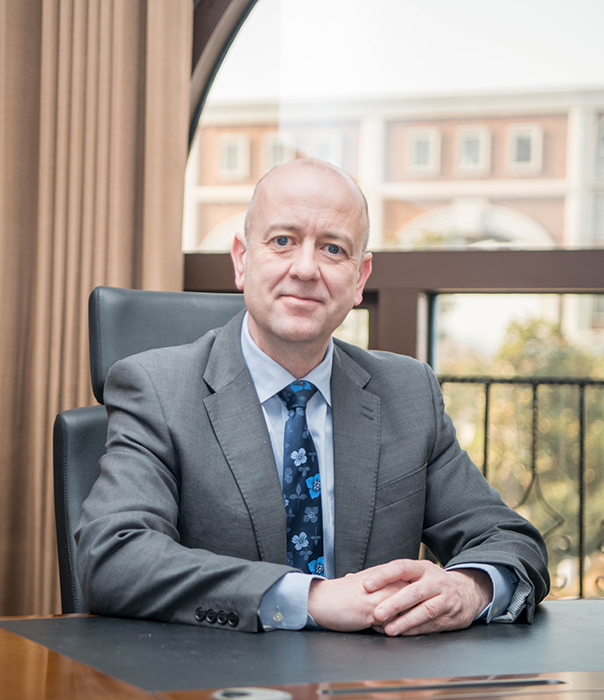 I am delighted to welcome you to Malvern College Qingdao, a school based on the very best of British education traditions.
We pride ourselves on setting very ambitious targets for all of our learners as we believe that aiming high drives our students to achieve their very best efforts. We offer a rounded and holistic educational experience, placing equal emphasis on both academic attainment and personal growth.
Our belief in holistic education is explicit in our 11 Malvern Values. Each of these 11 values seeks to promote an aspect of student character which ultimately defines what it means to be a Malvern learner. Additionally, outside of the classroom, our students are able to continue to grow and develop through our extensive extra-curriculum programme, where we have over 80 clubs. This programme allows our students to extend themselves in all kind of ways, promoting valuable life-skills such as critical thinking, team-working, leadership, creativity and sportsmanship.
Our highly qualified and experienced international and Chinese teaching team are passionate about their role in the school and I count myself very fortunate to be working with such a committed and professional team. Their continued hard work and efforts have ensured that many of our students have been able to progress to some of the very best universities in the UK, USA and Canada. In addition to the academic team, our wonderful pastoral team are there to ensure that your child's needs are met 24/7, offering ongoing support both in the classroom and in the Boarding House.
We are especially proud of our Gifted and Talented initiative which is aimed at our elite stream of learners. This initiative encourages students to extend their learning beyond the classroom through a series of innovative and challenging projects. Our very best elite students are also encouraged to participate in global academic competitions, competing with the very best on the world stage.
I am sure that you will agree that our facilities are world class and we are confident that wherever your child's interest may lie, they will be able to prosper and grow on our campus through our academic, sporting, creative and boarding environments.
Finally, it is my belief that our success lies in the partnerships that we are able to create with our parent body. There is nothing more important to us both than the education of your son or daughter and it is the understanding of this shared passion which continues to drive our successes here at Malvern College Qingdao.
Thank you
Stuart Hirst
Welcome from Mr. Keith Metcalfe, Headmaster, Malvern College UK
Welcome to the Malvern College family of schools: a global community of learners with strong, enduring, links to Malvern College, a leading independent school founded in 1865 in Worcestershire, UK.
Academic excellence, a vast array of extra-curricular activities and pastoral care are all central tenets of Malvern life; but more importantly, we seek to develop happy, balanced, and well- rounded individuals who share a common ethos and set of values.
Each school within the family is unique and reflects the culture and customs not only of one the great public schools of England, but also of its locale, resulting in our graduates being recognised as internationally minded young adults who leave us fulfilled and equipped to flourish at leading universities in the UK and around the world.
Malvern teachers benefit from a global network of like-minded colleagues with opportunities to develop both professionally and personally. We are constantly seeking new ways to forge links between our schools and to create the best possible professional opportunities, all supported by regular visits from our UK based education specialists.
We are delighted to have the opportunity to extend the values of a Malvern education to a global audience and look forward to seeing future generations of Malvernians continue to thrive as they move beyond life at school, determined to make a positive difference in the world beyond.
Mr. Keith Metcalfe